Which Pointee surfs the longest? New Endless Runner with competition.
Endless fun from kr3m: Since yesterday, August 1, 2022, the new game Pointee Run is playable on the PAYBACK app.
In cooperation with PAYBACK, Germany's leading bonus program, kr3m has developed an endless runner game that combines fast-paced gameplay and versatile partner integration. Did we base this on a specific game? Of course we did! With the clear objective of appealing to a younger target group even more intensively, only the app-based game "Subway Surfers" by SYBO Games came into question as a model. For those who don't know the game, it's worth noting that since its release in 2012, the game has seen download numbers in the trillions, is very hyped among a young target group, and has already spawned many variants.
Very much in the vein of a classic endless runner or jump n' run game, as it can also be called, Pointee Run is all about covering as much game distance as possible, overcoming all the obstacles and collecting lots of rewards along the levels. But it wouldn't be a game by kr3m for the PAYBACK app if it didn't add highlights like the 7 partner game worlds of well-known big brands, fun features and an extensive competition with scaled prize pot categories. Packed into a varied and fun gameplay, our game designers and developers have really done a great job.
Form follows function: Insights into kr3m game design
To fulfill our demand for fun and challenging gameplay combined with cool graphics style and full-featured performance at high traffic, we faced exciting challenges during the five-month course of the project. Which graphic style would best suit our intentions and how could we achieve a balanced gameplay experience for such a broad target audience?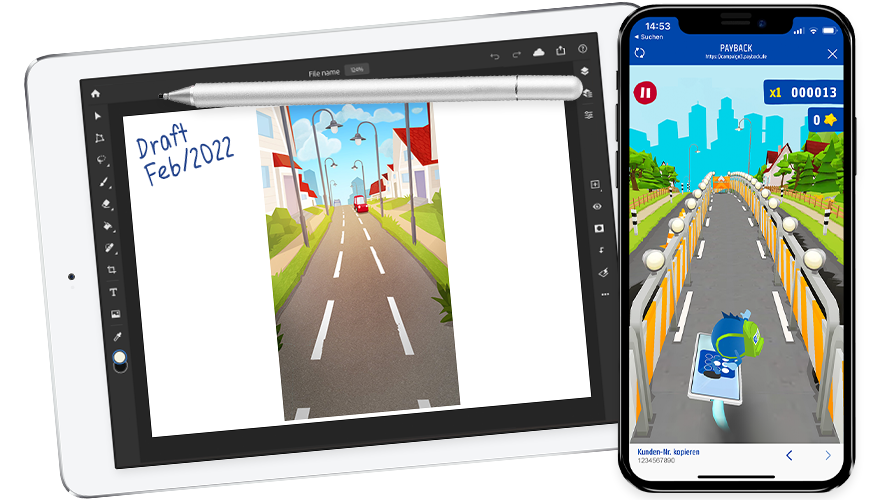 In the conception for the Pointee Run, the kr3m game design team first analyzed the optimal graphic style for the game. Because while "Subway Surfers" and other versions are 3D app games, Pointee Run is an HTML5 game that, like all kr3m games, was developed browser-based. If you look at other browser implementations of 3D games, they are often not graphically pretty and also not always satisfactory in terms of performance. With the chosen flat art style and corresponding low-poly modeling, kr3m has succeeded in developing a 3D game in HTML5 that has constant functionality while offering a varied gameplay experience with increasing speed and also looks good.
Everything included:
Marketing-strong and target-group-oriented gameplay
If there is too much focus on individual target group segments, it can sometimes be difficult to successfully communicate broad campaign content. Particularly in the case of games that are preferred by a young target group, a lot of experience and therefore increased demands on the game must be expected. In contrast, an older target group may have less experience and need a gentler introduction to the game experience.
We met this challenge in Pointee Run with a tutorial and a varied level design. In the introductory tutorial, inexperienced players who want to play Pointee Run in the PAYBACK app are explained the game controls – dodging, jumping and ducking – on their smartphone. After successfully completing the trial, eventful level sections follow and the difficulty level increases. As the pace increases, the Pointee must dodge obstacles, jump over road barriers and collect as many trophies as possible. The route leads through elaborately designed game worlds with strong partner integration. For example, the race goes through village streets with branded billboards, through cities and through partner stores with entertaining brand placement. In targeted consultation with the participating partners, the partner stages were individually designed and equipped with fun features. For the implementation of the elaborate level sections, we developed an interactive LevelBuilder, without which we would not have succeeded in creating this marketing-strong and target group-oriented game experience in such a rounded and resource-saving way.
Recognizing successful game principles and implementing them for our customers – that is one of our strengths at kr3m and we are already very excited about the feedback from PAYBACK app users.